In October 2016, Frontiers in Psychiatry published an online review of studies regarding cellphone addiction, some of which suggest that many people today might be a bit over-attached to those gadgets that seem to take care of more and more of our daily tasks.
If there is a bit of cellphone addiction out there, that may not be all bad. Many millennials, the generation now beginning families, find their phones are indispensable tools for getting through the day. And that presents an opportunity for medical practices seeking ways to enhance Patient Engagement.
At Women's Care Florida, a large, well-established OB/GYN practice serving Tampa, Orlando, and surrounding areas in Central Florida, nurse Kay Dunaway says providers see thousands of pregnant patients each year, and are always seeking ways to keep in better touch with them, from appointment reminders and lab results to simply offering them assurances about what to expect at each stage of their pregnancies.
Dunaway notes that it's a rare patient indeed who doesn't show up at the office these days with their cellphone.
"So that's a big help for us," Dunaway said. "If they forget their blood sugars at home, they have their little phones! They don't forget their phones. So, they can just pull it up and we can get that information from them."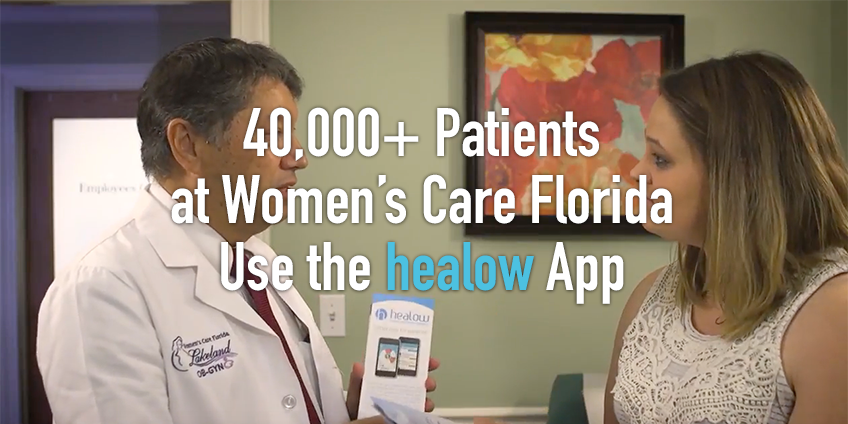 One clear conclusion, anyway
The researchers examining cellphone addiction in that Frontiers in Psychiatry article could offer no firm conclusions, owing to continuing confusion around definitions, the rapid changes in technology, and other difficulties involved in surveying consumers' habits.
But there's no doubt among the practitioners and staff at Women's Care Florida that cell phones are at least partially responsible for the huge success of their Patient Engagement efforts.
Founded in 1998, Women's Care Florida has experienced tremendous growth, with 200 providers caring for about 350,000 patients each year, who make and keep approximately 450,000 office visits — an average of about 1,800 visits daily to the organization's clinics.
According to Dr. Peter Alvarez, a member of the practice's board of directors as well as their Electronic Health Records committee, an estimated 40,000 patients are now using the healow app to stay in closer touch with their physicians and records, as well as to collect and share personal health data. And the newer healow Mom app is also rapidly growing among Women's Care Florida's patients.
"The healow Mom app helps patients participate in their care."
Sheila Gallagher – Clinical Manager, Women's Care's Lakeland
She sees firsthand the difference that healow apps make in the daily clinical workflows of the office. "It helps them engage, input information that they can share with the provider. They love it. Patients are very tech-savvy these days. I don't know anybody who doesn't have a phone on them, and it gives them the ability to input information and have it constantly available to update."
But do health apps really matter?
Just as the studies of cellphone addiction are inconclusive, there is still debate over whether health trackers have the power to effect the kinds of major changes that will be necessary if the U.S. is to curb the rising incidence of chronic illnesses such as diabetes.
One recent Wall Street Journal op-ed by Dr. Ezekiel J. Emanuel, a professor at the University of Pennsylvania and author of "Prescription for the Future," casts doubt on the value of trackers and virtual medicine. At the very least, Dr. Emanuel notes, "… the real challenge lies in changing patients' habits and behaviors once a health problem is identified."
But the staff at Women's Care Florida are confident that their partnership with eClinicalWorks and the healow apps is making a positive difference, in real and measurable ways.
For starters, as Dr. Alvarez points out, today's millennial patients expect to have health and fitness trackers available to them. The question is no longer whether patients and practices will use such devices, but which ones they will use. The healow apps, he notes, are not only among the best available on the market, but are customizable to the needs of Women's Care Florida and integrate seamlessly with patients' charts.
In addition, in a world where patients often suffer from too much information — and need ways to easily and reliably segregate good information from that which is misleading or sensationalized — the healow apps are the perfect tool. In short, Google is great, but it can also be overwhelming, and, when it comes to matters of health, even dangerous.
The role of patient safety
Thus, quite apart from the question of how powerful health trackers are and could someday become, there is one aspect — patient safety — where they are already playing an enormously important role.
"It's just a better way of communicating with the patients," Dunaway said. "Fewer phone calls is better, because we can take care of the patients here in the office. And it's better for the patients at home, too, because they're getting answers a lot quicker. It's saving them time calling and waiting for a reply."
And the deployment and strong implementation of healow apps goes beyond their value as clinical and communication tools. In a deeper sense, they are another sign of the commitment to excellence and quality care that are priorities throughout Women's Care Florida — and which lead to long-term doctor/patient relationships grounded in safety and trust.
"With obstetrics, a patient can be very low risk and turn into a high risk," Gallagher says. "So, from an obstetrical point of view, we can constantly pick up those slight changes in their care, or just within their systems, things that might alert us to change their recommendations with their doctor."
Read the full customer success story