From overwhelming to manageable
Many medical organizations talk about having a roadmap to the future, but following one is hard. Adopting new healthcare IT can feel overwhelming when you're trying to keep up with your daily patients.
But overwhelming becomes manageable when a practice remembers the principles that go into a good roadmap.
In spring 2012, at a time when Electronic Health Records (EHRs) were still far from universal, the journal Perspectives in Health Information Management published a study examining how EHRs can impact practice workflows.
Common delays in workflows
Researchers from the National Institute of Standards and Technology (NIST) identified several sources of delay in practice workflows — including scheduling, patient intake, organizing reports, completing Progress Notes, and managing prescriptions.
The researchers' primary conclusions:
Each of the specialty practices studied functioned in a unique way
Workflows within a practice differed depending upon a given patient's condition
More technology could improve workflows, provided it was properly integrated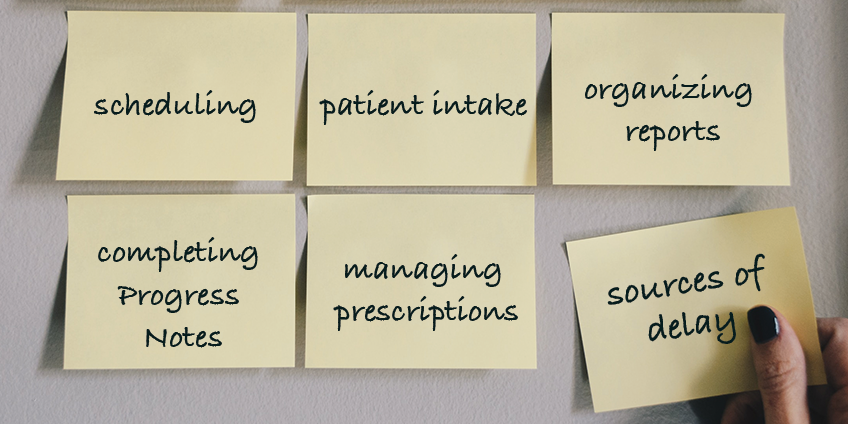 Building a better roadmap
While the NIST report's conclusions are not surprising, applying them effectively at a time of enormous advances in healthcare IT can be a real challenge. Where should your practice begin to construct a data-driven roadmap for success?
Any good roadmap or GPS contains many ways to get from A to B, but the best guides identify the optimal routes for your needs.
Similarly, eClinicalWorks helps practices identify and customize the healthcare IT solutions that meet their needs — without endlessly searching all available options.
Each of our solutions — for documentation, Population Health, Patient Engagement, data analytics, or Revenue Cycle Management — integrates with our EHR to create a single, data-driven healthcare IT ecosystem.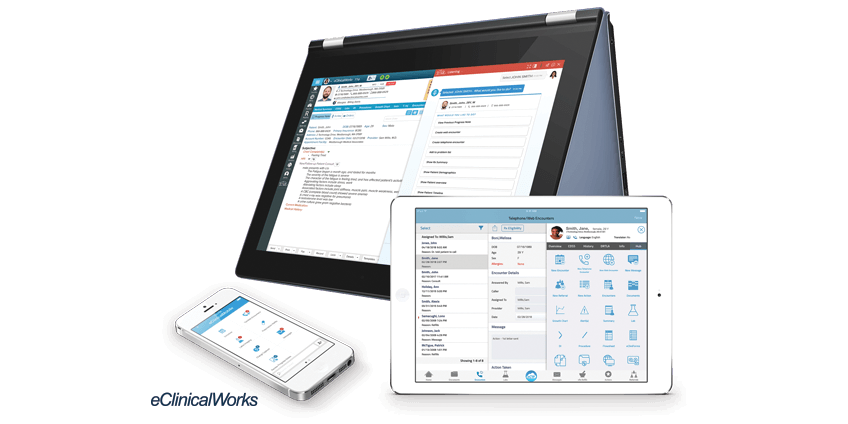 Our integrated solutions
Our eClinicalWorks Kiosk

™

streamlines patient intake, check-in, and insurance eligibility
Interoperability solutions deliver the latest patient records at the point of care
The eClinicalWorks Virtual Assistant identifies the most clinically relevant information for each case, speeding up documentation and promoting better and safer medicine
Our solutions for Chronic Care Management, HEDIS® analytics, and HCC coding are intuitive and easy to use, with dashboards and reports to help prioritize care
We integrate our Population Health tools with eClinicalWorks Messenger

®

campaigns for more effective patient outreach
New thinking for 2020 and beyond
The 2012 NIST study also found that workflow delays can arise from interactions with external entities, including outside caregivers, labs, and hospitals. Those transactions can mean higher transactional costs, implementation delays for new technology, repetitive data-entry work, and security concerns.
The eClinicalWorks difference is found in a comprehensive, cloud-based EHR that can seamlessly accommodate new technologies, offers the training and support practices need, can be customized for a practice's needs, and makes data exchange effortless and secure.
Making the best use of new healthcare IT will always require investment. Having a true healthcare IT partner on your side — with experts who know how to develop and read a roadmap that makes sense for your practice — is the best way to ensure a healthy return on those investments.
HEDIS® is a registered trademark of the National Committee for Quality Assurance (NCQA).
---