Starting (and Staying) Small in Michigan
According to the numbers, small and independent medical practices are headed for extinction. But in Marquette, Michigan — on the shores of Lake Superior in the Upper Peninsula — the husband and wife team of Dr. Christopher Dehlin and Dr. Jennifer Dehlin are demonstrating that there's a place for smaller medicine, even in an age of consolidation and managed care.
In early 2016, the Dehlins decided to declare their medical independence. And why not? He grew up in Gladstone, son of a community physician, while she hails from Houghton. Both attended Michigan Tech. Their residencies took them to Marquette, just about equidistant from their home towns.
Opening an independent practice, Dr. Christopher Dehlin said, is an opportunity to demonstrate the difference that autonomy and a focus on quality can make. While their previous assignments were good ones, the Dehlins felt that only by taking charge of their own practice could they achieve the continuous improvements in quality they felt patients deserve.
Proving their case was never going to be easy, but the Dehlins are off to an excellent start, thanks in part to the effective healthcare IT partnership they have developed with eClinicalWorks.
Cost and Quality Advantages
Singletrack is perhaps the closest thing to a full-service medical practice that two physicians could hope to have. They offer same-day visits, urgent care, treatment of fractures and lacerations, vaccinations, CDL/DOT physicals, and preventive health services.
In addition, the Dehlins and their staff partner with UP Health System Marquette for hospital care and low-risk obstetrical care — healthy moms expecting healthy babies.
Their choice to remain small is a deliberate one. Simply put, the Dehlins believe that ensuring quality medicine is easier when providers and staff get to know patients and their families well. Grow your practice beyond a certain size, and that task becomes much harder.
The Dehlins may have a point. According to an August 2014 report in Health Affairs, very small practices — those with just one or two providers — had hospital admission rates 33% lower than practices of 10-19 physicians when it came to congestive heart failure. A 2013 study showed small practices had lower hospital readmission rates than larger ones, while a 2012 study showed an edge in the costs of treating diabetes.
But Is It Sustainable?
Nonetheless, the choice to remain small — never mind starting a small practice, definitely runs counter to national trends. According to research by the American Medical Association, medical practices continue to grow in size. Between 2012 and 2016, solo practices declined from 18.4% of total medical practices to 16.5%, and those with five or fewer providers stood at 37.9% of all practices in 2016.
Many physicians may start out with the dream of owning their own practice. But over time many find that the headaches associated with the business of healthcare – maintaining the office, hiring staff, and handling billing, reporting, and compliance — undermine the time they want to devote to patient care.
A November 2014 report in Medscape, titled "Do Small Practices Provide Better Patient Care?", highlights some of the common objections, including lower reimbursements, an inability to focus sufficient resources on practice management, the lack of effective (or any) EHR systems at some practices, and insufficient personnel to conduct the care management planning so essential to meet the demands of medicine in an era of value-based care.
"This time, the solo practitioner is really going away," Dr. Craig C. Koniver, himself a solo family doctor in South Carolina, told Medscape. "There really is no room in the environment for the solo practitioner anymore."
Singletrack Response's: How Healthcare IT Helps
The Dehlins disagree. While they're not a solo-provider practice, their profile is much closer to such practices than it is to the large group practices that today dominate the American medical landscape.
Their reply to those who doubt the viability of the small practice is best illustrated by the success they have enjoyed during the 18 months since their Go-Live with eClinicalWorks.
Far from lacking an EHR, Singletrack has made full use of eClinicalWorks, the nation's leading ambulatory-care solution, and has found particular value in eClinicalMobile. "Our physicians utilize that quite a lot, especially given the fact that they make rounds for all their own patients at the hospital," Ann Gephart, Singletrack's Practice Manager.
Singletrack has also enjoyed great success engaging its patients, with two-thirds of them web-enabled on Patient Portal, which saves the practice untold time and effort by giving providers and patients alike a convenient platform for exchanging messages, sharing lab results, appointment and prescription refill requests, and education.
As for care planning, Singletrack has already achieved recognition as a Patient-Centered Medical Home, demonstrating excellence and focus on creating an environment that offers each patient the comprehensive care they need.
Small, Community-Minded, Sustainable
The difference that eClinicalWorks is making at Singletrack Health is to be found not only in faster and more convenient workflows, but in the evolution of a new, broader perspective on health and the role a medical practice can play in its community.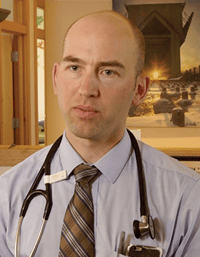 "People come to Singletrack Health because of how our office makes them feel. And that starts with their first telephone call or their first encounter at the front desk. They call patients by their name, they remember them, they ask how things are going in their life."
–Dr. Dehlin, Singletrack Health

But the Dehlins aren't just looking out for their own practice and patients. Recognizing the assistance and support they have enjoyed from others in their community, Dr. Dehlin is also determined to share the knowledge and experience he and his staff at Singletrack have gained.
"We're starting a Singletrack Health practice transformation consulting services," he said, "so if you're interested in starting a private practice, or if you're not leveraging all of the tools that you think you can, we're available to help."
That doesn't sound like a typical small practice, or small thinking. That sounds like a broad vision, one that promises to sustain small, quality medicine well into the nation's future.
Click here to read the complete story