For all the advances technology has brought to 21st-century medicine, there remains a need for means of transcribing and transferring information. And because healthcare is as much art as science — and involves human beings — opportunities remain for refining the traditional function of the scribe, from faithfully reproducing information to using human intellect and ingenuity to devise better ways of interpreting data, drawing upon medical knowledge, and making a positive difference in the lives of patients.
eClinicalWorks® understands that the act of scribing medical data will remain a key part of healthcare far into the future, and one that must combine the best technology with the art of medicine.
Such thinking informed our development of eClinicalWorks Scribe®, which combines innovative healthcare IT with the power of voice-recognition software to give today's busy providers a powerful tool for making documentation faster, easier, more mobile, and more clinically accurate than ever before.
eClinicalWorks Scribe combines human insight with the power of healthcare IT technology. Scribe was developed in consultation with physicians and partners with speech-to-text software and lets providers dictate or type patient narratives directly into a text box and is then placed in the appropriate sections of the Progress Note and can be used on eClinicalWorks, eClinicalTouch®, and eClinicalMobile®*.
And Scribe works with Eva, the eClinicalWorks Virtual Assistant, to give practices state-of-the-art tools for faster documentation.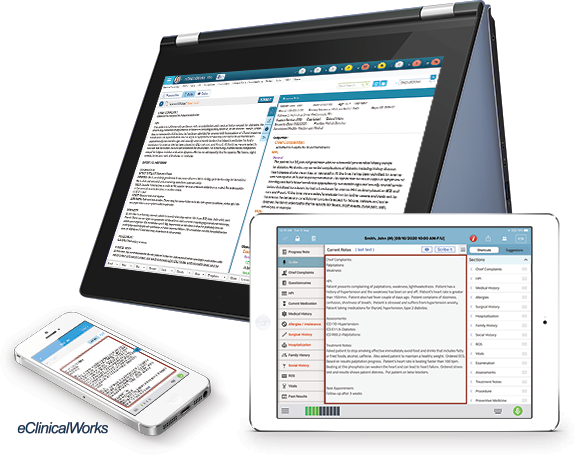 Several eClinicalWorks practices have enjoyed remarkable success with Scribe. Read about how it has helped Florida's Gastro Health better serve thousands of patients.
What Gastro Health and other practices, including Portland, Maine's Intermed, have found is that eClinicalWorks Scribe works three to four times faster than most human beings can type, handles a wide variety of accents and voices, and offers an even higher level of accuracy than the best human scribes can achieve.
Schedule a demo today to start giving eClinicalWorks Scribe a try!
*Value-added speech bundle is required