For all the advances technology has brought to 21st-century medicine, there remains a need for means of transcribing and transferring information. And because healthcare is as much art as science — and involves human beings — opportunities remain for refining the traditional function of the scribe, from faithfully reproducing information to using human intellect and ingenuity to devise better ways of interpreting data, drawing upon medical knowledge, and making a positive difference in the lives of patients.
eClinicalWorks understands that the act of scribing medical data will remain a key part of healthcare far into the future, and one that must combine the best technology with the art of medicine.
Such thinking informed our development of eClinicalWorks Scribe, which combines innovative healthcare IT with the power of voice-recognition software to give today's busy providers a powerful tool for making documentation faster, easier, more mobile, and more clinically accurate than ever before.
While at HIMSS19, stop by booth #149 and eClinicalWorks experts can demonstrate just how powerful and useful Scribe can be, both to speed documentation and help reduce the risk of physician burnout by helping doctors reclaim precious minutes throughout their day.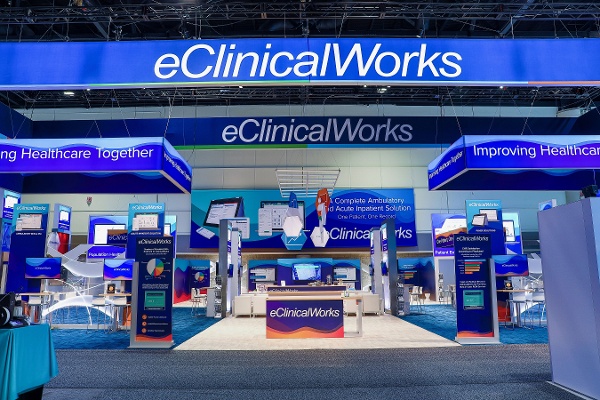 To be sure, some eClinicalWorks practices have enjoyed success with human scribes and continue to put them to effective use. And studies show scribes can be cost-effective.
For example, a 2015 study of cardiology clinics, published in ClinicoEconomics and Outcomes Research, found that physicians using human scribes saw 9.6% more patients per hour than those without scribes, generating $1.37 million in additional revenue, versus additional costs for the scribes of just $98,588.
But a 2017 article in Healthcare Innovation cautions that the utility of human scribes varies by practice and specialty, and some practitioners have encountered problems in training scribes, as well as with the consistency of their work.
eClinicalWorks Scribe combines human insight with the power of healthcare IT technology. Scribe was developed in consultation with physicians and can convert either typed or dictated free text. In other words, it allows doctors to speak as they would if they were typing up their Progress Notes, converts their input into structured data, and places that information into the appropriate section of the patient's Progress Note.
And Scribe works with Eva, the eClinicalWorks Virtual Assistant, to give practices state-of-the-art tools for faster documentation.
Several eClinicalWorks practices have enjoyed remarkable success with Scribe. Read about how it has helped Florida's Gastro Health better served thousands of patients.
What Gastro Health and other practices, including Portland, Maine's Intermed, have found is that eClinicalWorks Scribe works three to four times faster than most human beings can type, handles a wide variety of accents and voices, and offers an even higher level of accuracy than the best human scribes can achieve.
There's lots to see and do at HIMSS19, but a powerful new tool for documentation could be the leap forward that your practice has been looking for. So be sure to take time to see us at booth #149 and see eClinicalWorks Scribe in action!