What happens when primary care practices don't provide patients with the service they demand, including flexible hours? Someone else does.
When it was founded nearly 30 years ago, Righttime Medical Care — which has grown to become a network of 125 urgent care providers at 15 locations in Maryland and Washington, D.C. — wasn't setting out to take patients away from primary care providers.
Their original purpose — as exemplified in their original name, Nighttime Pediatrics — was to give parents a place to find quality medical care for their children during those night and weekend hours when their pediatrician's office was closed.
A changing medical reality
But medical times change, and the reality is that Righttime Medical Care stands today at the intersection between urgent care and primary care. Founded to provide off-hours care, they are now the provider of choice for many individuals and families.
Dr. Robert G. Graw, a founder and CEO of Righttime Medical Care, insists his organization is still not in the business of taking patients away from other practices.
"The reality is that we're only seeing patients who can't get into their office."
– Dr. Robert G. Graw, a founder and CEO of Righttime Medical Care
Some of that has to do with a growing shortage of doctors, a shortage felt acutely in primary care because so many medical needs are first addressed in such settings.
The doctor shortage
A 2012 report in the Annals of Family Medicine estimated the U.S. will need an additional 52,000 primary-care doctors by 2025 to handle an estimated 565 million primary-care office visits. Another study, a February 2017 report from the Association of American Medical Colleges, gives an estimate of between 34,600 and 88,000 doctors.
Whatever the numbers, a doctor shortage is not the only cause behind the move toward urgent care. For many families, the traditional model of finding a primary care doctor, making an appointment, and then waiting — days, weeks, even months — for service, simply doesn't work anymore.
Increasingly busy lifestyles mean patients want access to medical care on the same terms they would demand any other product or service. The rise of urgent care and walk-in clinics simply reflects that reality.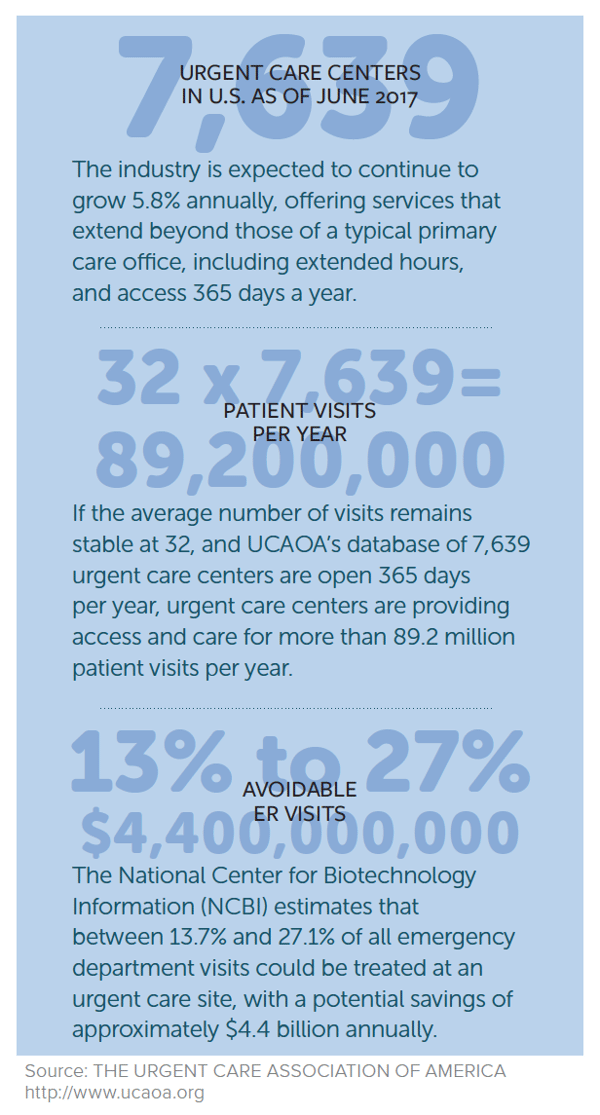 A powerful healthcare IT partner
As their practice grew, Righttime's providers realized they needed a healthcare IT partner with the strength and flexibility to match their own business model.
"We looked at every other platform and we chose eClinicalWorks because we felt that it could offer the depth, the robustness to deliver care for all our primary care patients."
– Dr. Robert G. Graw
On one level, the patient encounters at Righttime Medical Care unfold much as they always have in countless medical offices across the nation. Patients call up and make an appointment. Some book their own appointments online. And others simply walk in to one of Righttime's 15 clinics.
But it is what goes on behind the scenes with data from each patient encounter that is making a real difference in quality.
A need for interoperability
"All of the information for patients is bi-directionally exchanged so doctors in their primary care offices can look and see what happened to them when they came to the urgent care," Dr. Graw said. "Likewise, we can then examine what's going on in their primary care office. Similarly, with the hospitals now, we've built a network so we can exchange data with Epic in our local hospital systems, and be able to see the same thing, what treatments have been done, what diagnostic studies have been done. They, likewise, in the morning, can see what we did to help their patients."
By allowing physicians to connect to the Carequality and CommonWell networks with a few keystrokes right from within the EMR, eClinicalWorks is helping address the reality that, as Dr. Graw puts it, "systems still do not talk well back and forth to each other."
Choices and communication
Will the rise of nimble networks of urgent care providers such as Righttime Medical Care force traditional providers to offer more flexible hours, online booking, telemedicine, and other tools that can increase Patient Engagement and satisfaction?
Perhaps. But neither traditional primary care nor urgent care practices such as Righttime Medical Care are going to lack patients. In a diverse and growing nation such as the U.S., there is consumer demand for many medical models.
The key to success will be creating the tools — for access, availability, interoperability, and affordability — to ensure that the healthcare system as a whole is as coordinated and effective as possible, no matter who is providing the care.