In an ideal world, every medical encounter would begin with the provider having the patient's complete medical history. Every diagnosis. Every medication. Every allergy.
For now, we live in a real world, where information is often scattered throughout medical systems.
That's why medicine is increasingly about interoperability — the fast, reliable and secure exchange of clinical data at the point of care, as well as the integration of medical devices and data with healthcare IT systems.
In this Podcast, eClinicalWorks' Tushar Malhotra talks about the challenges that today's medical providers face, and how healthcare IT providers are helping solve them thanks to the rise of CommonWell and Carequality, the nation's leading networks for clinical data exchange.
Often, most of a patient's records reside with their primary care doctor and a few specialists. If those records exist within a single medical system, they are usually readily available to any provider in that network.
Remember all those other visits?
But what about when the patient went to urgent care? And that walk-in clinic they visited while on vacation? What about older records before they moved to the area?
Without an effective means of exchanging clinical data, there can be no guarantee that a provider has all the information necessary for making the right decisions. Patients themselves may not remember which prescriptions they were given. They may not be in a physical or mental condition to provide the necessary information.
Say a patient's primary care physician notes a critical drug allergy, but that patient later winds up in the ER, where physicians have no record of the allergy. That constitutes a potentially serious danger. Or what about the patient who gets discharged from the hospital after undergoing a battery of tests, and later sees their primary care doctor? Unless those tests are noted somewhere, expensive and unnecessary duplicate procedures may be ordered.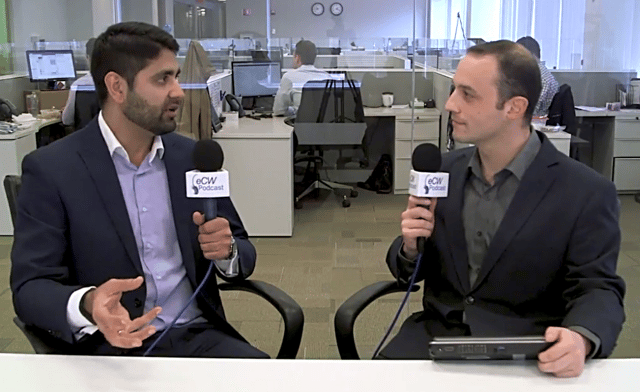 A new push for interoperability
The recently enacted 21st Century Cures Act underscores the need for data exchange, promotes patient access to records, and discourages information blocking.
But not just any interoperability will do. As Malhotra notes, there is a big difference between a healthcare IT provider that is simply a member of a nationwide network and one, like eClinicalWorks, that actually deploys services on behalf of its clients.
"We are actually doing it for them," Malhotra says. "We are seeing real-world exchanges happening, and that's a key differentiator."
In the past, office superstars could locate any paper chart almost immediately, and bring it to the doctor without even being asked.
Today, with patients more mobile than ever, and practices busier than ever, no human can hope match the comprehensiveness, speed, and accuracy of shared electronic medical records.
Carequality and CommonWell
Carequality and CommonWell arose because of the need for nationwide networks dedicated to the principle that records need to be complete and available to providers on demand.
eClinicalWorks has taken an active role in both.
Now, rather than building point-to-point connections for clients, eClinicalWorks can connect clients to either or both network, transforming data exchange from hit-or-miss to as complete and seamless a system as possible.
As soon as a patient checks in with their provider, Malhotra notes, queries are sent automatically through the network, and all relevant data imported into the eClinicalWorks EHR, appearing exactly where the provider needs it — in the Interactive Clinical Wizard (Right Chart Panel).
The road ahead
These interoperability frameworks already constitute a powerful network, as confirmed by Dr. Robert Paul Fischer, founder and senior internist at Dallas Internal Medical Group.
"I'm sure I'm a member of the last generation of physicians who actually wrote in a chart," Dr. Fischer told eClinicalWorks during a recent interview. "The dream of moving information quickly with a click is coming closer and closer. We're not completely there yet, but this is a major step forward."
How can practices make interoperability a priority?
Twice a week, eClinicalWorks offers free webinars on interoperability at my.eclinicalworks.com. We are continuing to add videos, user guides, and training manuals designed to reinforce the knowledge and education provided to a practice when it first goes live with eClinicalWorks.
For most practices, of course, the technical details are best left to the experts. Their interest is in providing quality care and ensuring patient safety. On both points, the news is good: Interoperability is here to stay, and improving daily.