The rules of the telehealth game may have changed, but you still want to play by the right rules. In light of the COVID-19 pandemic, the Department of Health and Human Services' Office for Civil Rights recently announced the waiver of certain penalties for noncompliance with HIPAA regulations.
In the face of this crisis, you want to do what's best for your patients. That's where healow TeleVisits™ can help.
TeleVisits are a secure appointment-based solution that allows providers to deliver an in-office experience to patients with online ease. By using TeleVisits, your providers have the confidence that they are fully compliant with all HIPAA regulations, while patients will know that their personal health information is safe.
With TeleVisits, providers enjoy complete access to the full range of clinical tools available for any visit. Those with the eClinicalWorks EHR will see their Progress Notes fully integrated into their daily workflows. Practices using another EHR can still set up TeleVisits as a stand-alone application. And TeleVisits works with every browser and any device.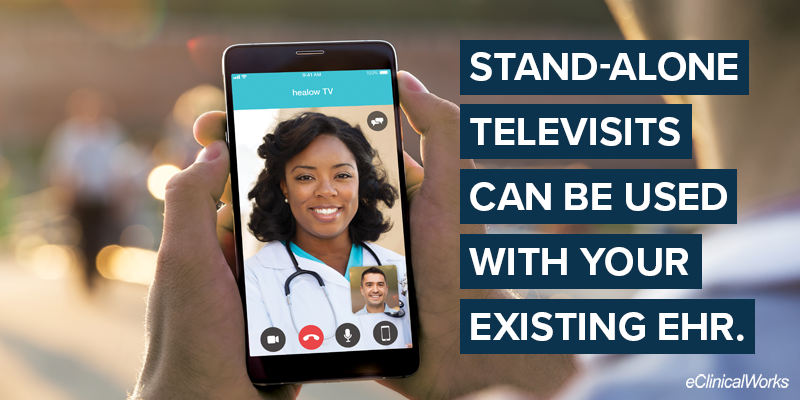 TeleVisits allow providers to:
Easily schedule TeleVisit appointments
Publish pre-visit questionnaires
Access patient data from integrated wearable devices (glucometers, bp cuffs, etc.)
Document findings, diagnoses, and treatment plans in a Progress Note
Send patient satisfaction surveys
Remind patients about appointments and follow-ups
The great thing about TeleVisits is that you can get the service up and running quickly. A Florida practice has already moved 80% of their appointments online with the help of eClinicalWorks.
TeleVisits as a stand-alone product start at $2 a visit or $50 for 250 minutes per month. Due to COVID-19, for March through June 2020, the healow telehealth solutions package will be capped at $100 x the number of provider(s) per month. eClinicalWorks will bill either the healow telehealth solution pricing selected by the customer or the number of providers x $100 per month, whichever is less.
Contact us to learn more about TeleVisits or sign up for one of our informational webinars at my.eclinicalworks.com.