In his classic "Economics in One Lesson," Henry Hazlitt wrote: "The art of economics consists in looking not merely at the immediate but at the longer effects of any act or policy; it consists in tracing the consequences of that policy not merely for one group but for all groups." 1
Change "economics" to "healthcare," and you have a useful guide for medical practices challenged to deliver quality care while controlling costs: Think about long-term consequences for all.
From short-term goals to new thinking
It's natural for practices initially to embrace Electronic Health Records (EHR) to meet short-term goals: Easier documentation, faster workflows, better compliance.
But when you consider the inexorable rise of healthcare spending in the U.S., it is clear that healthcare IT must do a lot more.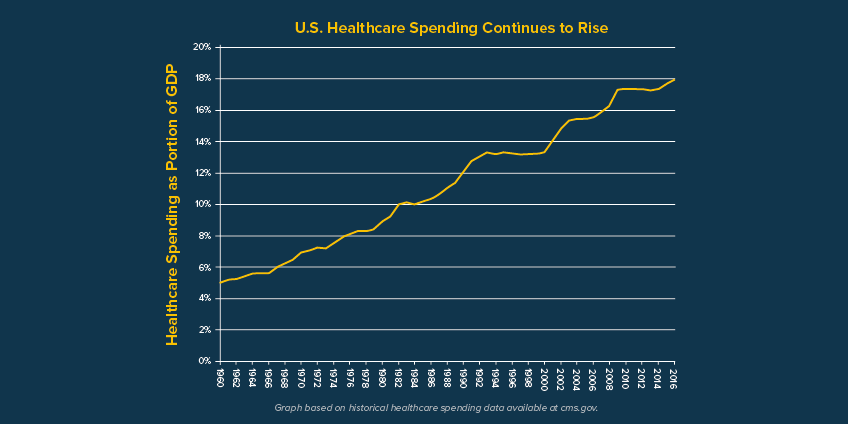 Between 1960 and 2016, according to data compiled by the Centers for Medicare & Medicaid Services, per-capita, inflation-adjusted spending rose by more than eight times, from $1,250 per person (in 2016 dollars) to $10,500 per person.
Controlling costs requires long-term thinking about every aspect of healthcare.
Using the power of the human voice
Documentation by computer is easier and faster than writing Progress Notes by hand. But using eClinicalWorks Scribe® in conjunction with voice-recognition technology is another quantum leap forward, capable of saving practitioners minutes with every patient encounter.
Over a year, that can save hundreds of hours. Providers can use that time to improve patient care or improve their own work/life balance. That, in turn, can save some of the estimated $4.6 billion lost in the U.S. annually due to provider burnout. 2
Improve chronic disease management
Beyond the EHR for documentation, providers need Population Health tools for proper risk assessment, managing chronic conditions, developing care plans, and tracking patients moving among care settings. Such tools can help improve outcomes and reduce hospital readmissions, thus lowering costs.
Seeing further through interoperability networks
One of the most powerful tools available to eClinicalWorks practices is interoperability.
By activating the Carequality and CommonWell networks in the EHR, providers have access to the most complete patient records available from Epic and Cerner hospitals, enabling them to address patients' current needs and anticipate future ones. That means fewer missed diagnoses, a reduction in ER visits and hospitalizations, and lower healthcare costs.
Understand the social aspects of care
By working with a true healthcare IT partner such as eClinicalWorks, more than 800 Community Health Centers nationwide are investing in the long-term thinking needed to solve the quality/cost puzzle.
They are using data analytics to better reach patients with unmet medical needs. They are using Social Determinants of Health to guide the allocation of limited healthcare resources.
By reaching millions of poor, rural, and medically underserved Americans, health centers are illustrating the second part of Hazlitt's classic lesson — thinking of the consequences of actions for all groups.
Invest in tools and training
Achieving great value for Americas' healthcare dollars will obviously take more than one lesson, but practices that invest in tools and training are engaged in the long-term thinking vital for meeting the needs of today and tomorrow.
---
1. From chapter 1 of "Economics in One Lesson," Henry Hazlitt. Copyright 1946, Harper & Brothers Publishers, New York.