Dr. Martha R. Rodriguez used to have nightmares. Except she had them during the day. At the office.
"We were inundated with lists from the insurance companies," said Dr. Rodriguez, founder of MMR Healthcare in Boynton Beach, Florida. "Every day we would get a new list — these patients have missing eye exams, these patients are missing mammograms."
Dr. Rodriguez admits that her knee would sometimes shake when she was faced with yet another list of patients who were out of compliance with recommended exams, because she knew that the data on those lists were sometimes 90 to 120 days out of date.
Sure, there was still time to do something about closing those gaps in care, but it was hard to ignore the time that had elapsed since the patient's last visit. What was going on with them today? How might their condition have changed in the three to four months since that data was created?
Today, thanks to the use of Health Effectiveness Data and Information Set (HEDIS®)* measures, Dr. Rodriguez and her colleagues have taken control of gaps in care. To be sure, not every patient is fully compliant with recommended tests and screenings, but with the HEDIS dashboard and module from eClinicalWorks, her practice enjoys unprecedented visibility and real-time data.
MMR Healthcare was far from alone in facing that flood of outdated patient data. For years, experts have lamented the fact that the United States spends so much more per-capita on healthcare than most other nations, yet does not get outcomes that are proportional to that investment.
A September 2018 report in Managed Care, for example, cited a report by the Peterson Center on Healthcare and the Kaiser Family Foundation which found that, in 2016, the U.S. spent $10,348 per capita on healthcare, yet had a higher loss of potential years of life to major killers, including cancer, heart disease, strokes, accidents, and chronic respiratory disease.
The problem isn't a lack of knowledge. Rather, as one chief medical officer told Managed Care, "… physicians and other providers often don't have that information when they need it — during an office visit with an ill patient."
That's exactly where tools such as the HEDIS dashboard come in. One practice at a time — and even one patient at a time — they are giving providers the information and insight they need to provide more timely care.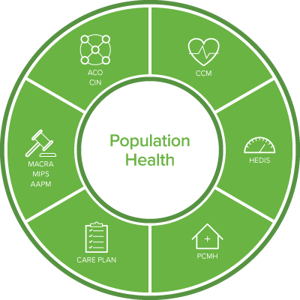 "To be able to know when you are seeing a patient and what measures are missing is so incredible and transforming that I cannot describe."
– Dr. Rodriguez, MMR Healthcare
*HEDIS® is a registered trademark of the National Committee for Quality Assurance (NCQA).