Because knowing your patients' medical histories well plays such a central role in delivering appropriate and effective treatments to them, healthcare providers today need the most effective possible risk-adjustment model available.
Developed in 2004 by the Centers for Medicare & Medicaid Services, Hierarchical Conditional Category (HCC) coding is one key tool that has become increasingly important as healthcare has shifted toward value-based models.
How important?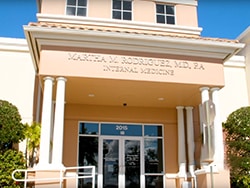 "I believe that if you don't participate in HCC modules and HCC programs, you're going to be out of practice," asserts Dr. Martha R. Rodriguez, founder of MMR Healthcare in Boynton Beach, Florida. "The only way to transform the future is to use risk to evaluate the cost of patients' care and be able to direct budgets appropriately."
Dr. Rodriguez knows from experience both how critical risk assessment is and how easily it can get away from a practice. While her practice enjoyed a very high HCC score for many years, a growing number of patients made maintaining that score more difficult.
"When the practice grew I lost control of that because I didn't know what the other clinicians were doing. And because I depended on old data, it was very difficult to change that."
– Dr. Martha R. Rodriguez, founder of MMR Healthcare
Using the HCC module from eClinicalWorks has helped Dr. Rodriguez regain control of risk assessment at her practice. Effective risk stratification is growing in importance across all medical disciplines and settings, including in underserved communities, as value-based models become the new norm.
"It does require paying more attention, that you report that documentation the amount of times that it needs to be reported," she said. "It does require a shift of mindset."
And sometimes it requires something more. Dr. Rodriguez recalls working with a large radiology group as a local hospital, educating them on how to properly read x-rays in light of the information the HCC module was demanding.
"By educating the radiologists, we were able to increase the HCC scores dramatically," she said. Higher HCC scores are a good thing. But Dr. Rodriguez understands that the real end goal is to improve outcomes. And she has no doubt that HCC is a vital tool for meeting that goal.
"In healthcare, we know what doesn't work. This is really going to change healthcare. Using this model is the only way that we can identify the patients, the only way we have to evaluate the risk and categorize them."
– Dr. Martha R. Rodriguez, founder of MMR Healthcare