Facing a Dental Divide
In many ways, healthcare in America has made enormous progress over the last century-and-a-half. Advances in technology and pharmaceuticals have made medicine safer, less painful, and more effective.
But for all the advances that have been made, some aspects of medicine remain mired in old thinking, including the traditional divide between medical and dental services.
How that divide came about, and some of its implications, is the subject of a recent book by Mary Otto: "Teeth: The Story of Beauty, Inequality, and the Struggle for Oral Health in America." As Otto told The Atlantic's Julie Beck in a March 2017 interview, more than 1 million Americans go to an emergency room each year for dental emergencies, at a cost of more than $1 billion.
"The patient gets maybe a prescription for an antibiotic and a pain medicine and is told to go visit his or her dentist," Otto said. "But a lot of these patients don't have dentists. So there's this dramatic reminder here that your oral health is part of your overall health, that drives you to the emergency room but you get to this gap where there's no care."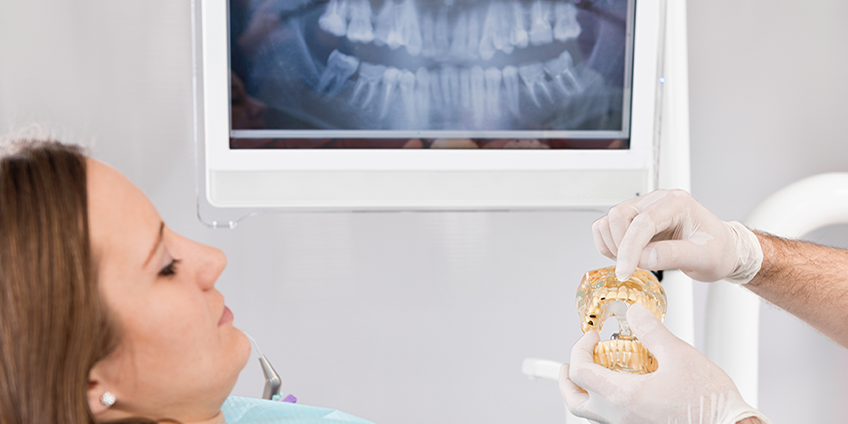 Dimock's Boston Roots
In the city of Boston, providers and public health authorities are acutely aware of the "dental gap," and are doing something about it.
Since 1969, the Dimock Community Health Center has been providing comprehensive physical and mental health services. In 2016, they handled more than 76,000 medical visits. Twelve of the center's 88 providers are involved in the dental clinic, handling 300 patients weekly.
"Our mission at Dimock is to heal and uplift families, individuals and our community," said Dr. Lagina D. Bickham, the center's clinical dental director.
That sense of purpose and mission has been unchanged since Dimock's founding in July 1862 as the New England Hospital for Women and Children. Dimock's sense of history and purpose is exemplified by its namesake, Dr. Susan Dimock.
A North Carolina native, Dimock was largely self-taught in medicine before coming to the New England Hospital as a clinical observer. Rejected by Harvard Medical School, she went to Europe, earned her medical degree in Switzerland, and then became resident physician at the New England Hospital in 1872.
Although she perished in the wreck of the S.S. Schiller three years later, at just 28 years old, Dimock's pioneering spirit lives on at the center that bears her name. The center's résumé includes the nation's first nursing school and having graduated the nation's first black nurse, in 1879.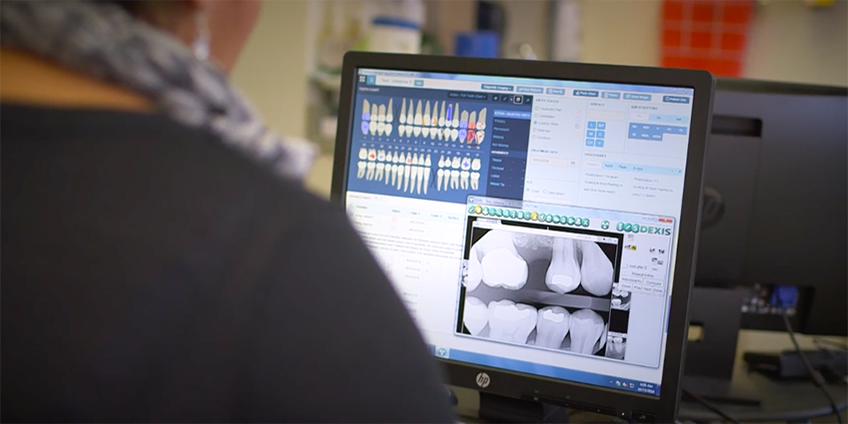 Focusing on Dental Health
No wonder then that the Dimock Center's leaders have made dental care a priority in the communities they serve. More than a year ago, they implemented the eClinicalWorks Electronic Dental Record, integrating patient records and treatments with the medical side of the clinic.
With a comprehensive solution for appointment booking, exams, periocharting, and Patient Engagement, Dimock has seen improved workflows and greater efficiency, including an 8 percent increase in the number of dental patients they can serve.
"It's all integrated into one chart and helps improve patient safety by making sure that all providers have each patient's current medical history," said Johanna Carroll, senior EHR analyst at the Dimock Center, who is responsible for optimizing the system and improving workflows.
"Before the eClinicalWorks dental module, it was much more difficult for me as dental director to ensure that we had proper documentation in our charts," Dr. Bickham said.
"As the saying goes, if it's not documented, it's not done. So having eClinicalWorks, and having software that allows us to document with such things as smart notes and templates allows for much more accuracy and efficiency."
Pressing for Progress
The Dimock Center is not alone, of course, in placing emphasis on dental care, but a June 2015 report by Qualis Health and other stakeholders in the state of Washington shows just how far the nation has to go in putting oral health at the forefront of overall health:
"It has been 15 years since the U.S. Surgeon General identified oral disease as a priority health concern and documented pervasive and systemic barriers to dental care," the report said. "Despite calls for all healthcare professionals to pay attention to oral disease, too little progress has been made in reconfiguring the healthcare delivery system to better meet our nation's oral health needs."
The report points out that a quarter of adults ages 20-64 have untreated dental caries, and that dental problems cause the loss of 164 million work hours annually. In 2010, they note, only 20% of Medicaid-enrolled children under three had regular dental care.
"The oral healthcare delivery system, as it is currently configured," the study declared, "fails to reach the populations with the highest burden of oral disease, resulting in significant and pervasive oral health disparities for low-income, minority, rural, and other underserved populations."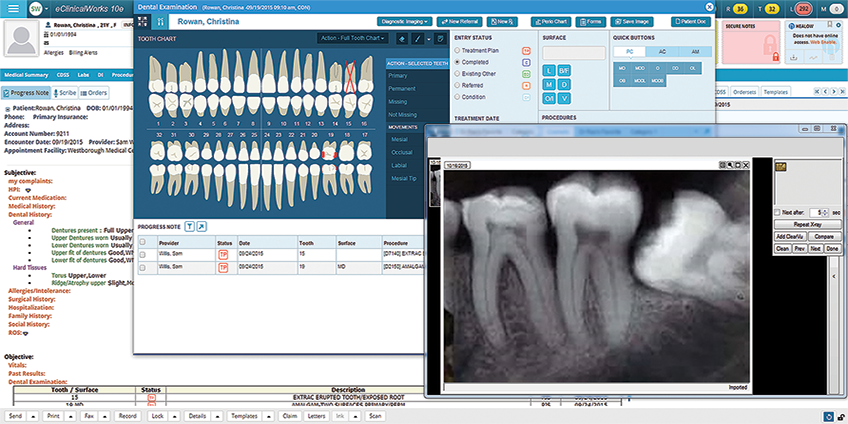 An Integrated Future
Patients at the Dimock Center have noticed the difference technology makes.
"They comment often on how we are now using digital x-rays and have an Electronic Dental Record," Dr. Bickham said. "They see the computer right before them, and they compliment us on our achievements, and they feel quite comfortable being here at Dimock, knowing that we are keeping up with the latest technology."
In addition to having unified, eClinicalWorks technology throughout, the Dimock Center is engaged with residency programs at Boston's dental schools, including Harvard University, Tufts University, Boston University, Mount Ida College, and the Forsyth School of Dental Hygiene.
Dr. Bickham understands that the dentists and dental hygienists of tomorrow need the best possible experience, one informed by the best in communication, technology, and caring — and one that just happens to draw upon a rich and powerful history of providing comprehensive care to all in Greater Boston.
"Having all of those students come to us," she said, "it's of extreme importance that we are all unified in a way that we can document properly. The way it should be done. The way it's done here at Dimock."