'Awash in data, ankle deep in information'
Modern healthcare generates seemingly endless amounts of data, from Progress Notes, exams, and lab tests, to emergency room visits, hospital stays, health trackers, and more. By next year, according to an estimate from Stanford Medicine's Health Trends Report, the U.S. will have more than 2,314 exabytes (an exabyte is a trillion megabytes) of data.
The more relevant point, author Michael E. Thompson notes, is that healthcare today is "awash in data, yet barely ankle deep in information."
Understanding Thompson's point is critical for medical practices that hope to leverage data to improve outcomes among their patients. All the information in the world is of little use if medical providers and their support staff cannot develop a clear framework for identifying relevant data and putting it to effective use.
Step one: Agreeing on what to measure
While every medical practice faces different challenges, a crucial first step toward closing the data gap is agreeing on what your practice wants to measure.
A recent New England Journal of Medicine Catalyst report summarized the insights of 566 clinicians, clinical leaders, and healthcare executives.
The three areas most commonly measured, and percentage of respondents citing them:
Hospital Readmissions (76%)

Patient Experience (75%)

Patient Safety and Mortality Rates (59% each)
While 69% of the healthcare leaders agreed that data analytics offer an opportunity to improve clinical care and accountability, they also agreed that healthcare leaders and doctors have to be on the same page.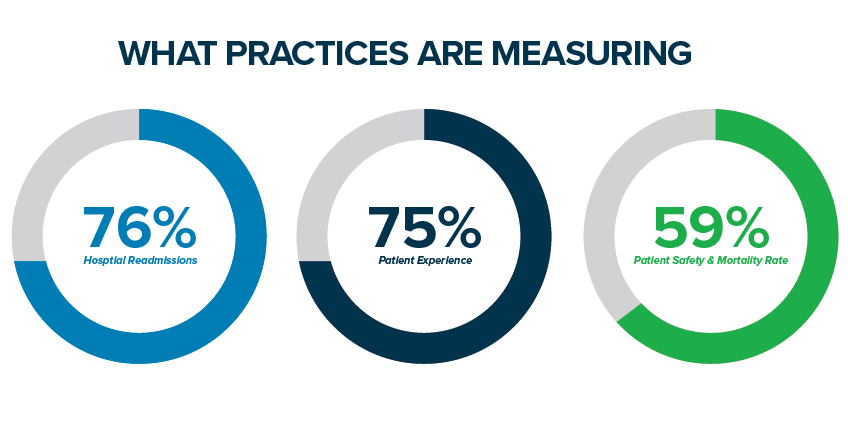 Step two: Improve access to clinical data
A second insight from the NEJM Catalyst report may seem obvious: To be most effective, all physicians, nurses, staff members, and even patients themselves should have access to analytics data.
However, many practices admit they fall short of that ideal. Just 46% say their organizations are good or outstanding at creating data, and just over a quarter (28%) say they are good at learning from their data.
"You have to get the fundamentals of government correct before data and analytics can be effectively used to realize improvement goals."
— Dr. Namita S. Mohta, clinical editor of NEJM Catalyst
Nearly all healthcare executives (84%) and clinical leaders (83%) can see clinical data, but only 56% of front-line physicians and only 36% of nurses enjoy similar access.
Step three: Make your EHR your partner
Most practices, no matter how effective, will see at least some of themselves reflected in these results. After all, everyone would like to make their practice more efficient, put data to better use, and improve outcomes among patients.
The key is to take that third step of examining your EHR vendor to determine whether it is capable of closing the data gap, and turning all those megabytes into the actionable insights that will translate into better health.
eClinicalWorks does precisely that by offering a comprehensive EHR and Practice Management system that seamlessly integrates with solutions for Population Health and Patient Engagement.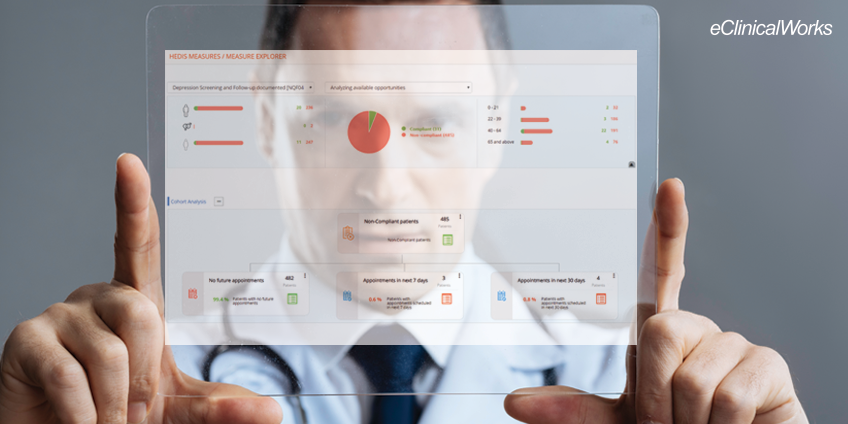 eClinicalWorks customers use our care modules to target the most common areas of measurement:
Better patient tracking drives down hospital readmissions and improves outcomes.
Streamlining check-in procedures and practice workflows offers patients better overall experiences and higher satisfaction.
State-of-the-art interoperability solutions ensure providers have the latest patient information, improving safety by avoiding unnecessary tests, guarding against adverse drug reactions, and helping guide doctors to the right medical decisions.
Ready to learn more?
Or call 508-836-2700 to see how eClinicalWorks can help put your practice's data to better use.
---