According to the Centers for Disease Control and Prevention, 60% of American adults have at least one chronic illness, and 42% have two or more such illnesses — with heart disease, cancer, and diabetes leading the list of maladies that require ongoing medical attention and limit daily activities in some way.
The good news? Those figures, based on 2014 data and contained in a Rand Corporation report issued in 2017, have held steady since 2008. After years on the rise, chronic conditions appear to be coming under some control thanks to sharper attention and focus from the healthcare community.
Another key change took place in 2015, when the Centers for Medicare & Medicaid Services launched their Chronic Care Management (CCM) program. Today, practices such as MMR Healthcare, a primary care provider in Boynton Beach, Florida, can be reimbursed for work that they have been doing for years.
CMS' decision was driven by medical and economic realities, including this: Among Medicare fee-for-service beneficiaries, patients with more than one chronic condition account for 93% of total Medicare spending. There are obvious benefits — for practices and taxpayers — to better controlling chronic illness.
The more important impact, of course, is on patient health.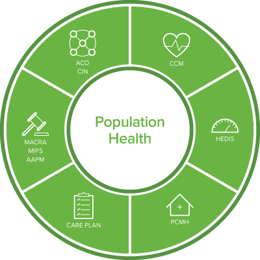 "Chronic Care Management is the key to value-based medicine, because it stops conditions from getting worse. It's that follow-up, constant, continued involvement that keeps it from progressing."
– Dr. Martha M. Rodriguez
MMR Healthcare took several steps to respond to its chronically ill patients. The practice began using the Chronic Care Management module from eClinicalWorks to track the time spent on each patient's case. Next, they partnered with a local pharmacist to cover the medication issues that come with chronic conditions — where it is not uncommon for a patient to be taking six or more medications. And they hired care coordinators, each of whom works with between 20 and 30 patients, and serves as a resource to whom those patients can turn whenever they need advice or help.
In an ideal world Dr. Rodriguez noted, patients would disenroll from the CCM program for the best reason of all — they've gotten better. In reality, she said, chronic illnesses don't go away. Patients who leave the CCM program usually do so because they have moved or they have succeeded in better controlling their illness, which becomes less intense as a result."
"But usually I like them to continue in the program so that they have that continued education, continued involvement that ties them to the practice. It's an incredible investment on both the patient's part and our part, and that's what really brings value."
– Dr. Martha M. Rodriguez
In 2014, MMR Healthcare, a small primary-care practice in Boynton Beach, Florida with a focus on geriatrics, recognized that they needed to take a more team-based approach to care to handle a growing number of patients with chronic health conditions, including type 2 diabetes. Working closely with eClinicalWorks, MMR Healthcare has earned recognition as a Patient-Centered Medical Home, established team-based care teams, trained patients in the use of Patient Portal, and made full use of HEDIS®* dashboards to give them deeper insight into their patients' overall health.
*HEDIS® is a registered trademark of the National Committee for Quality Assurance (NCQA)