Like many providers today, those at Portland, Maine's InterMed are busier than ever, providing a wide variety of primary care and specialty services to thousands of patients daily. They found that one of the best ways to improve efficiency and effectiveness isn't to work that much harder and faster, but to slow down and take the time to learn some new techniques. That's where eClinicalWorks Scribe has made such a difference.
Dr. Peter Emery notes he began using Scribe in 2018 after attending an introductory session with his colleague, Dr. Scott Patch. That session took place on a Wednesday night, and Dr. Emery put Scribe to work the very next morning and has been using it ever since to make his documentation faster and easier.
There aren't many things a medical practice can do to transform their workflows overnight, but eClinicalWorks Scribe is precisely such a solution. Scribe combines innovative eClinicalWorks design with the power of voice-recognition software. The result is a powerful tool that can convert text or dictation into structured data and place that data in the proper section of a patient's Progress Note.
Better still, Scribe is a mobile solution that providers can use on any device, whenever and wherever they have internet access.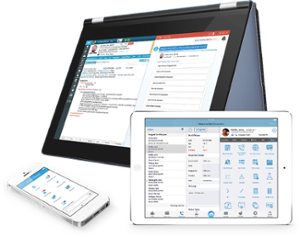 "I find that it saves a tremendous amount of time when trying to get more complicated thoughts and ideas into the record," Dr. Emery said, "particularly longer, more complicated HPIs (History of Present Illness) and with medical decision-making. I find that it also solves the problem of note cloning. Especially with common diagnoses, you can really customize your medical decision-making and treatment plan for each visit."
It goes without saying that medical science produces ever more powerful tools and technologies. But it's important to understand that doctors don't choose such tools simply because they are more powerful or impressive. At a time when many physicians feel that healthcare in general — and the EHR in particular — can be an obstacle to care, they are looking for solutions that make their lives easier.
"The standards of documentation are higher and higher with each passing moment," Dr. Emery said. "You can document much faster with this and also, especially with the mobile app, if you don't finish everything the moment you have to leave the office, at whatever time that is, you can use it anywhere."
"When you're seeing a patient who has a complicated past medical history, and they're coming in with a complicated presentation, you're under a lot of pressure. And not just time pressure to get through your day, but to accurately document everything they're telling you. And so, you can fall into the trap of just being like a court stenographer and taking dictation essentially, and typing everything in while the patient's talking to you. You're listening to them, but they don't know that! But with dictation you don't even have to look at the computer. You can type maybe a couple of prompts to remind yourself after the visit, but there's much better face time with the patient."
– Dr. Peter Emery, InterMed