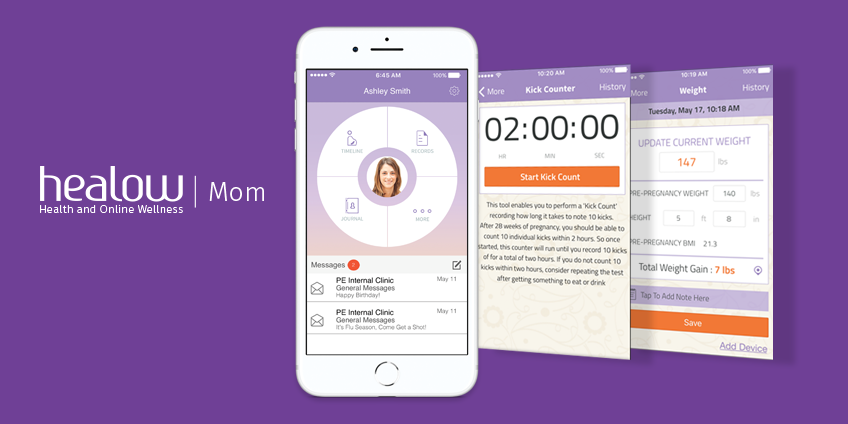 Mothers-to-be have always turned to their own mothers, friends, and their doctors for advice during pregnancy. Even in our tech-savvy age, women still reach out to those who have shared their experiences.

The rise of technology has, however, offered them still more. The wealth of reliable health information on the internet, along with the rise of healthcare IT tools such as patient portals and apps, means that moms-to-be today have more resources than ever before.

There are times when an expectant mother might not be able to reach her doctor immediately. Perhaps she doesn't want to bother family or friends. She might simply be feeling uncertain about something going on with her pregnancy and need a way to quickly access expert medical information.
That's where healow Mom can help.
Basically another version of the Patient Portal, healow Mom offers:
Access to a woman's complete prenatal record, important for travel or emergencies
The ability to send messages to the doctor or request/book appointments
A timeline feature that provides education throughout pregnancy
Features that help patients and providers track weight, blood pressure, and blood sugar
A journal that lets the patient keep notes and record questions for her doctor
A kick counter and contraction timer
Because the healow Mom app is comprehensive, full of medically sound information — OB/GYN physicians and a midwife helped provide content and reviewed the final product — and integrates seamlessly with the eClinicalWorks EHR, there's no reason for practices not to offer it to their patients.
But in our busy world — and there are few people busier than women expecting a child — adopting any given technology is always about more than how well it works. It's about building awareness.
The adoption of healow Mom is highest at those practices where the doctor mentions the app during a visit, preferably early in pregnancy. A physician's endorsement is important because it gives the mother-to-be confidence that the provider has reviewed and approves the app.
Women's Care Florida has made healow Mom an integral part of their welcome kit, offering their patients a binder, booklet, and instructions on how to download and use healow Mom. Presenting that information up front saves time later on, and gives expectant mothers a tool they can use throughout their pregnancy.
Patients can download the healow Mom app on the App Store or Google Play, then use your practice code and their Patient Portal username and password to get started. So be sure to spread the word to your patients that healow Mom is here to help!
Download the app today to get started!